Tech
First batch of Covid-19 vaccine arrives in Pakistan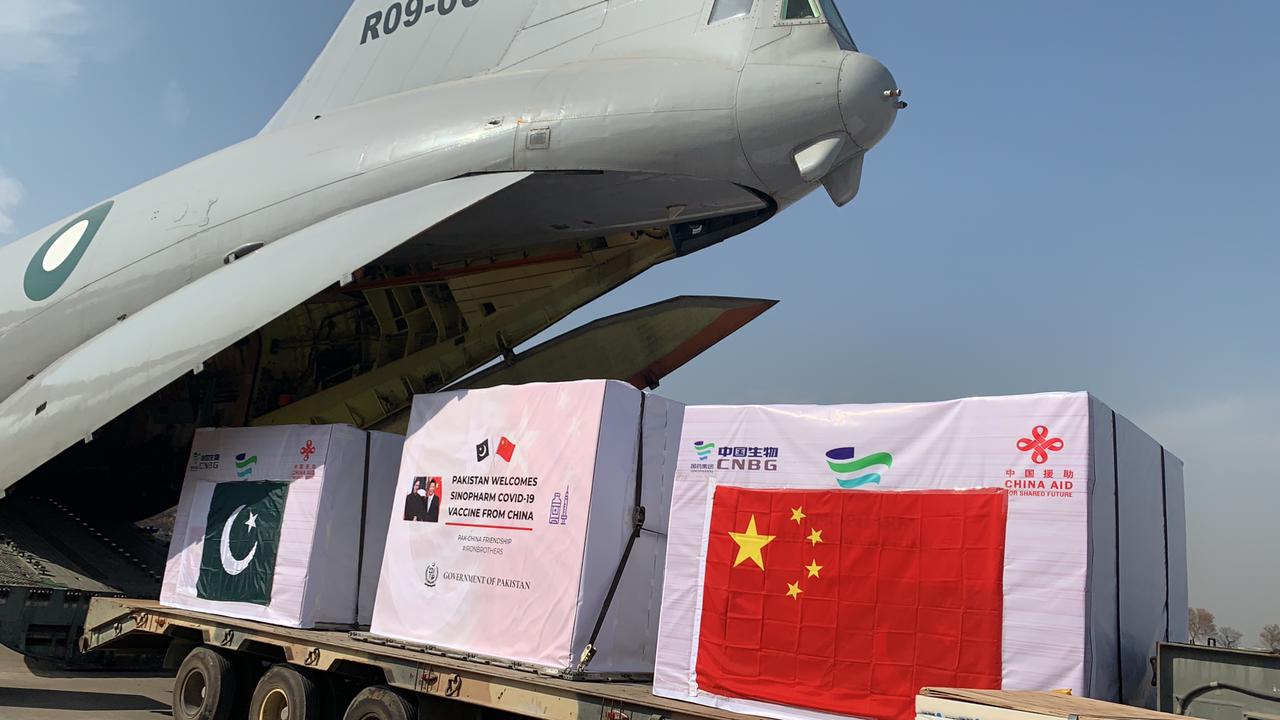 ISLAMABAD:
Foreign Minister Shah Mehmood Qureshi on Monday said China has once again proven its everlasting friendship with Pakistan by gifting the country half a million doses of the Sinopharm Covid-19 vaccine.
The foreign minister was present at Nur Khan Airbase alongside Chinese Ambassador Nong Rong at the official handing over ceremony of the vaccines, after their arrival earlier today.
The initial batch of the vaccine, donated by China to Pakistan, will be administered to frontline health workers and those working at medical facilities across the country.
Qureshi thanked Chinese President Xi Jinping for supporting Pakistan. "This is a testament of the friendship between China and Pakistan," the FM said referring to the 500,000 Covid-19 vaccine doses that were received as a gift from China.
He also thanked the People's Liberation Army, Chinese doctors and experts who came to Pakistan and guided and shared their experience with Pakistani doctors on the deadly virus.
Qureshi said that he had discussed the matter with Chinese Foreign Minister Wang Jiechi in December 2020 and on January 1, 2021, the Chinese diplomat gave him the good news of Beijing gifting half a million vaccine doses.
He also thanked Pakistan Air Force (PAF) for bringing the vaccine from China without delay. Islamabad's top diplomat added said that the two countries had jointly started a programme to develop a vaccine, the initial trial report of which was very positive.
"The friendship between Pakistan and China is not only at the government level but on the public's level as well," the top diplomat stressed. "This would prove to be good news for the frontline workers and the elderly as well."
Speaking on the occasion, the Chinese Ambassador Nong Rong said Pakistan was the first country to receive the vaccine.
"I am proud to announce that Pakistan is the first country in the world to receive the Chinese government donated vaccine. I think everyone agrees with me that it is not only the vaccine to the people needed in Pakistan but more importantly a new manifestation to our iron brotherhood."
Beijing's envoy also thanked Pakistan's government for approval of the emergency use authorization for Sinopharm's vaccine.
"We expect more cooperation to follow and more people to benefit from it," said the Chinese envoy.
"China is ready to contribute to Pakistan's pandemic prevention drive, economic recovery and social development."
Earlier today, a Pakistan Air Force (PAF) IL-76 brought back the first batch of the Sinopharm vaccine.
On January 28, the federal government gave the green light for three Covid-19 vaccines including Russia's Sputnik-V, China's Sinopharm and UK's Oxford-AstraZeneca for emergency use in the country for which a step-by-step guide was also issued.
Special Assistant to Prime Minister on National Health Services Dr Faisal Sultan was present at the Nur Khan airbase to receive the vaccine batch.